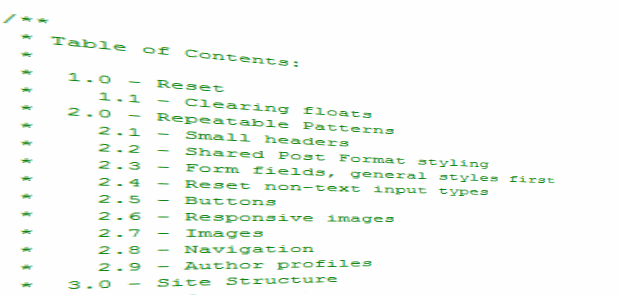 When I first saw new default WordPress theme Twenty Thirteen, I really liked new addition for style.css - a Table of Contents. Default theme should help new users to understand where goes what and especially it is useful when developing child themes. Table of Contents for style file helps to achieve this task, I even think that it would be useful to have Table of Contents for functions.php too 😉
Same day I added Table of Contents to Twenty Twelve theme and renamed CSS comments titles accordingly (Track ticket #23662). ocean90 compiled patch from my code and we were ready to go, but... Guys at WP decided that it is too much of a trouble:
lancewillett: Let's skip this, and put our efforts to newer themes instead. Thirteen and onward. I don't think it's worth the effort for the older themes.
Well, here we go... patch is ready, but WP people don't want to "waste the efforts"... Personally I like Twenty Twelve more than Twenty Thirteen, because it is more versatile in comparison to "bloggy" Twenty Thirteen. I reopened politely the ticket and let's see where it will take us.