Showcase your website or child theme based on Tiny Forge WordPress theme! Please share your website in the comments, also you could briefly describe what changes you made, specific techniques or plugins used

There are several areas/industries that find a great use of Tiny Forge WordPress theme!
Design and Fashion
Services, Industry
Education, Science, Research, Environment protection
Organizations, Non-profit companies
Art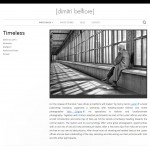 WARNING! Testing HTML5 galleries for the upcoming beta version!

Gallery - 1 column
Gallery - 2 columns
Gallery - 3 columns
Gallery - 4 columns
Gallery - 5 columns
Gallery - 6 columns
Authors, Writers, Publishing companies
Niche sites
Personal sites