RoundTable - elegant, free P2 child theme for WordPress, that will make your internal blogging experience much warmer! RoundTable will encourage your team members to engage in open conversation:
The Round Table is King Arthur's famed table in the Arthurian legend, around which he and his Knights congregate. As its name suggests, it has no head, implying that everyone who sits there has equal status. Source: WikiPedia
Screenshot of RoundTable theme (note that in this example I use several P2 plugins, check readme.txt for more information about them):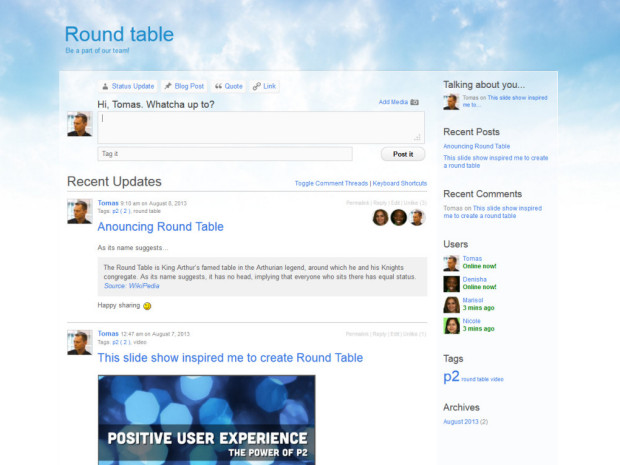 P2 is very good theme, but for some reason its default design is very basic. Perhaps P2 creators wanted to give us a little nudge, so we would create something better? 🙂

Quick overview of main theme features
Elegant, light design
Ease access links in the footer (Log In, Site Admin, P2 user guide)
Download RoundTable theme » Donate if you like this theme! »
Do you like this theme? Support RoundTable development with your donation. I recommend hosting your WordPress site with DowntownHost.com. Using this referral link allows you to support future development of this theme. Alternatively, you can contribute directly by donating with PayPal (if you prefer, you can visit PayPal.com directly and send a payment to services [at] mtomas.com).
Story behind the creation of this theme
This slide show inspired me to start internal blog at my company and to create RoundTable theme:
You can also watch it as a video presentation:
see how a P2-powered internal blog has improved staff communication and cohesion at UCSF resulting in a much better user experience for the researchers and students we support. Michele Mizejewski: Positive User Experience: The Power of P2.
Showcase your RoundTable site or mod!
Please post your site link as a comment here!
What are users saying about RoundTable theme
Be the first - post a comment 😉
Special thanks and credits
Theme support
For a free support please use the RoundTable Support Forum
Version history
RoundTable v1.0 (2013-11-23):